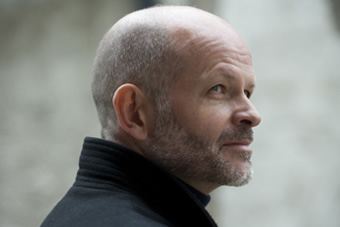 Born near the seaside in the west of France, Thierry decided to move to Paris in the 80's, officially to go to university and unofficially, to attend theatre classes.
He began his artistic training with the very classical Jean-Laurent Cochet but switched quickly to the famous "New York 's Actor's Studio" led by Cathleen Leslie. Originally cerebral, he discovered "The Method acting" which opened a very new way of being and feeling the world : a revolution for him at this point of his life ! This encounter pointed the beginning of his re-invention.
Thierry pursued his theatre studies with Jack Garfein, Andreas Voutsinas, Jean-Pierre Dougnac, Philippe Lanton, Pascal Luneau and recently with Scott Williams ("Meisner technique") and Nicky Flacks.
He also worked with dancers Dominique Hervieu, Wim Vandeykebus and Hervé Diasnas and singing teachers Boris Moore (from The Roy Hart Theatre), Oscar Sisto, Juan Ramos and continues today with Martine Viard.
In 1987, Thierry made his first steps on stage in professional productions. He has since performed in more than 30 productions throughout France and Europe, working on playwrights such as Molière, Shakespeare, Tchekhov, Dorin, Nilly, Nordmann… one important fact is Thierry's choice to work with contemporary "non-classical" directors : Agnès Desfosses, Laurent Pelly, François Ha Van, Gabor Tompa, Cèline Brunelle…
During the mid 90's, he began performing for films and television with famous Claude Lelouch and for the TV series "Highlander" with English Canadian director Mario Azzopardi. He performed too in english in the first "Bourne Identity" directed by Doug Liman. Later he collaborated with Marc Angelo ("Quai n°1") , Frédéric Forestier ("Le Boulet"), and recently with Jean-Marc Brondolo ("Spiral-Engrenages"), Thierry Binisti ("Assassinée"), Julien Despaux ("Profilage"), Alain Guesnier ("Souvenirs d'un vieil enfant - La rafle du Vel d'hiv'"), Frédéric Beigbeder ("L'amour dure trois ans"), Jérôme Navarro ("Fais pas ci, fais pas ça"), Thomas Lilti ("Hippocrate")…
For the last 10 years, Thierry has been exploring new horizons. He has written scripts and directed shorts movies, video clips…and has just finished his first script for cinema. He has also directed several stage-plays. He continues to prefer contemporary works for the liberty they allow.
Stage and cinema artist, performer, script writer, director, Thierry's curiosity and his taste for challenges, his appetite for work and research… his never-ending enthusiasm permit him to open multiple fields of activity !
>
Download resume